Electricians in Tonbridge
Electricity is considered an essential component in businesses and homes, and its importance can not be denied. So when it comes to repairing and fixing one should possess knowledge of it, and that is where we step in. Our best domestic electricians in Tonbridge are trained and experienced who will handle all the electrical issues efficiently.
Our motto has been to achieve customer satisfaction, and in all these years we have lived up to it. Moreover, our electricians are on duty 24/7, so if you need an emergency repair service, we will do it for you. Professional and dedicated, our electricians work quickly, safely, energetically and skillfully all the time to give their customers peace of mind.
The areas we cover are Tunbridge Wells, Tonbridge, Southborough, Sevenoaks, Oxted, Hildenborough, Uckfield, Crowborough, Edenbridge, East Grinstead, Robertsbridge, Maidstone, Cranbrook, Godstone and many more! We guarantee to provide the highest levels of electrical services and pride ourselves on being the most professional and reliable best domestic electricians in Tonbridge.
TG Electrics keep themselves abreast with the latest and cutting-edge tools and equipment and also the prices. Our continuous investment is the key that provides our customers great confidence in our pricing competitiveness and to ensure value for money. Due to this, our strong base of loyal customers have increased, and we receive most of our projects from our referrals.
Professional Electricians in Tonbridge:
Apart from our advanced equipment, we also invest in the training of our staff, and we can proudly say that they are fit to be called the members of TG Electrics. All of them undergo rigorous training so they can deliver you quality and consistent level of service. They are:
1. Reliable & Efficient
2. Energetic & Friendly
3. Trained and skilled
4. Fulfil their Promise
5. Aim to Exceed
Moreover, to ensure they are fully competent, each one is carefully trained and is check for background history. They are knowledgeable in handling all types of electrical equipment which enables them to fix or repair any issue safely and swiftly.
Comprehensive Services:
At TG Electrics we provide our customers with an extensive range of electrical service at competitive prices. You can hire a service that meets your stander and requirements. So if you have a limited budget, do not worry, we assure you that our prices will be within your budget. The services we offer are: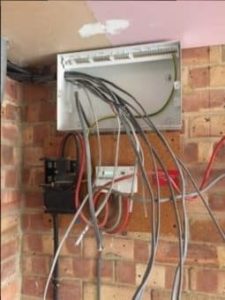 New Builds, Extensions, Re-wires.
Testing & Certification
Lighting Installations.
Power Installations.
Fire & Smoke Alarms.
CCTV, Phone Entry, Gate Automation.
Alarm Systems.
Why Choose Us?
We perform our electrical work to the highest standards
All of our electricians are skilled and experienced
Offer 24/7 emergency services
We provide quality on all of our electrical services
Also, we guarantee you 100% satisfaction with our services and quality. We also offer our customers with a quote, but first, you have to discuss your requirements with our local electricians in Tonbridge in detail. We fix the issue entirely so that it won't arise again for a more extended period. Our electricians will find the cause of the problem and will find a resolution efficiently and professionally that is our promise.
TG Electrics is committed to providing excellent electrical services. And we continuously challenge ourselves every day and look for ways in improving our relationships, services, and technical ability.
Do not wait if you are any electrical issues and hire our electricians in Tonbridge now! For more information, you can contact our customer support representatives, and they will guide you properly. So you can contact us through email, we will respond within 24 hours.