Local Electricians in Tonbridge
TG Electrics, a renowned name in the electrical industry possess local electricians in Tonbridge who are always prepared to solve any electrical issue 24 hours, seven days a week. We have a considerable amount of experience and hire only fully trained and licensed electricians to carry out the electrical work. Moreover, we provide a prompt response to any emergency issue occurred in your home and needed an immediate repair or replacement.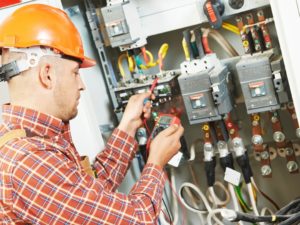 Also, if you require new lights installed or your circuit breakers keep on tripping and need repairing our experts can solve your problem efficiently and effectively. We also provide maintenance and testing services at the time that suits you the best. Our electricians perform their job safely and securely ensuring that no one is injured because of their negligence. They adhere to the safety standards strictly. They also use modern state of the art electrical equipment for reliable and quick service without causing any disruption and delays.
Electricians in Tonbridge:
At TG Electrics, we realise that all types of electrical issues arise in your house needs an immediate solution. If shown any delay and do not take the issue seriously can jeopardise the life of your family. At this point, you need the services of an experienced Electricians in Tonbridge who is available to help you anytime, and TG Electrics is there to help you. TG Electrics have helped many houses over these years with their electrical issues. We are the ones who you can trust, and we promise never to cause you any disappointment.
Moreover, the prices we offer are competitive market prices. To know more about the electrical services we provide to our customers in Tonbridge, contact us and get a free quote. Our friendly staff after analysing your electrical issue will give you an accurate estimated quote.
Residential Electrical Services:
TG Electrics carry out a vast range of residential electrical services. We can install, repair, maintain and test the electrical wires. All of this is offered at highly competitive prices while maintaining the high standards of quality work. The electrical equipment that we use is modern and latest. And our electricians are well trained in the handling of that equipment.
Furthermore, we strive to develop long-lasting relationships with our residential customers by fulfilling all of their requirements and exceeding their expectations. Our electricians are fully accredited and trained which gives a peace of mind that the work will be completed to the highest standards. We accept your queries so contact us discuss your requirements and get a free quote.
Moreover, we pride ourselves on providing quality workmanship, experienced and qualified electricians and competitive prices. We ensure you that your issue will be solved efficiently, quickly and without causing any disruptions. Our services include:
• New Builds, Extensions, Re-wires.
• Testing & Certification
• Lighting Installations.
• Power Installations.
• Fire & Smoke Alarms.
• CCTV, Phone Entry, Gate Automation.
• Alarm Systems.
So call us on 07761 543563 or email us at info@tgelectrics.co.uk. Hire our local electricians Tonbridge now and get your problem solved without waiting any more.