Electricians in Southborough
Have you ever envisioned what your life would be like without electricity? If you have, you will know that it would be dull and boring. In our daily routine we use a lot of power to cook, work, charge our electrical devices and much more. So, it is a fact that without electricity our lives will stop and we will be unable to complete our daily tasks. Same is the case when you face an electrical issue either with your wiring, fuse box, electrical appliances and more. Whenever you meet an electrical issue, call our expert electricians in Southborough to fix it. T&G Electrics has experienced electricians that will solve your problem in a timely manner.
Sometimes we ignore the issue because it appears minor or we try to fix it on our own to save money. This could be dangerous and put your home and yourself at risk, you should always hire an expert electrician. We are here to assist you and will be there to help in no time. So give us a call and we will determine the root cause of the problem and fix it promptly.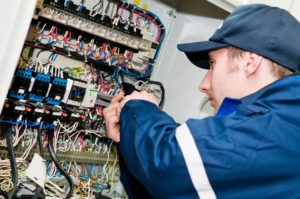 Electrician Services in Southborough
Many signs will indicate when you need to call an electrician, they include:
• Your circuit breaker trips continuously
• You have an old house and have never had the wires inspected
• Your electrical outlet is damaged
• Your outlets, cords or breakers are damaged
• The cables are emitting sparks
• Your fuse boards are emitting a putrid odour
If you witness any of the sign mentioned above, then schedule an appointment with us. Our thoroughly trained and certified electricians in Southborough will come and fix the issue as soon as possible, using the latest equipment.
We firmly believe in building strong relationships with our customers and we present them with solutions that are cost-effective. After analysing the issue, we will guide you through our process to resolve it. We will also provide you with a no obligation quote before any work takes place. We will only start work once you have accepted the quote.
So call us on 07761 543563 or email us at info@tgelectrics.co.uk